Selecting the Appropriate Outdoor Fabric
Overwhelmed by the choice of marine and outdoor fabrics on the market? We've made it easier for you. We offer only the leading outdoor fabrics available in the industry. Whether you are looking for a new bimini top, boat cover or simply to cover your outdoor world, all our products are exclusively manufactured with only the finest marine and outdoor fabrics for specific applications. These technical fabrics have been tested in various environments, to withstand the harshest North American climates. We are proud to say that all outdoor and marine fabrics carried by ANP are genuine and manufactured in the U.S.A.
Marine fabric exterior - Boat covers
Marine fabric interior - Boat furniture vinyls
COLORS MAY VARY – ORDER FREE SAMPLES
Although we do our best to portray colors accurately, actual colors will vary. Many colors and subtle textures cannot always be appreciated on computer monitors, which vary from one to another.
Since all canvas products are custom-made for you, and cannot be returned, if an exact color match is required, then please request free samples before placing your order.
Remember also that dye lots might vary between the swatch sample and the product you receive.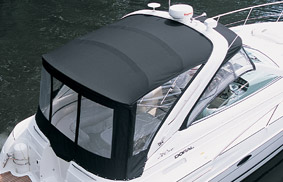 Breathability
UV resistance
Waterproof
Colorfastness
Abrasion Resistance
Maintenance
Seamark fabric for boat covers
IF IT HAS TO BE WATERPROOF IT HAS TO BE SEAMARK™!
Sea Mark™ is an ideal combination of Sunbrella, the premier marine grade acrylic fabric and Haartz textured marine grade vinyl.
The results: a rich colorfast, waterproof fabric that stands up to the harsh conditions of any marine environment. This material has superior seam and tensile strength and is UV resistant.
Engineered to stand up on the open sea where salt, moisture, sun, wind, and temperature extremes defeat all but the toughest fabrics.
The design offers the look and feel of fabric and the durability of vinyl. While the Sunbrella side is the one exposed to the elements, the backside of Sea Mark™ has a vinyl backing which is color coordinated with the Sunbrella top side.
Excellent waterproof fabric for boat tops, we exclusively use Sea Mark™ and match it with Sunbrella marine on our camper enclosures for cruisers. (i.e Doral cruisers)
Recommended for: boat tops, boat covers, convertible auto covers and more.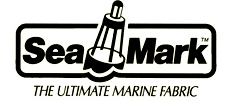 Seamark™ features
100% Solution dyed acrylic
8 vibrant colors that match Sunbrella marine fabrics.
Waterproof
Highly resistant to UV.
Mildew resistant.
Little shrinkage or stretching.
16 ounces per square yard
5 year limited manufacturer warranty
Made in the USA by HAARTZ