Boats provide hours of recreational fun, but whether you enjoy fishing, skiing or camping, your boat canvas and upholstery needs to be cleaned and maintained to keep them in the best shape possible.
The very best materials and coatings have been used to protect your boat cover, camper enclosure or marine furniture.  It has been carefully designed and made to provide exceptional service to you, using only the best possible techniques, machinery and workmanship available.
Here are some suggestions on how to clean and maintain your marine boat canvas and frame, boat upholstery and clear vinyl windows.
With proper care and gentle cleansing, your canvas boat top or marine seating can stay looking great for many years while creating a safe environment for your passengers.
Camper top Enclosures - Care and maintenance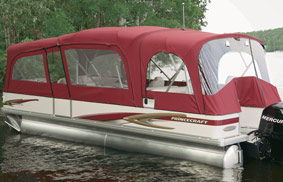 Camping is a great way to commune with the outdoors and bond with friends and family.
Our pontoon camper enclosures and boat top enclosures are commonly used on week-end getaways and for hours of fun out on the lake. If you are an avid boater, you might even consider overnight sleeping on the boat.  It is the ideal shelter to protect you and your family from inclement weather on camping boat trips.
For a safe and dry ride, find out here important guidelines on how to use and care for your boat top enclosure.
Camper enclosures care and maintenance
MARINE INTERIOR AND EXTERIOR FABRICS
What type of fabric is your cover or boat seat made of?
Always identify the type of fabric or clear vinyl glass you have and check with the material manufacturer first before following any cleaning or care routine.
ANP is not responsible for damage to fabrics or materials due to treatments with the wrong cleaning or care product.
If you are unsure of the material manufacturer of your product, please contact us at (819) 364-3642
Caring for marine acrylics, polyesters and vinyls
The real key to marine canvas and vinyl longevity is like all things in life, maintenance. Keep them clean of dust, dirt and environmental residue on a regular basis and your marine canvas and vinyl will go a long way.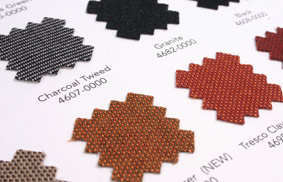 When cleaning your boat cover it is important to make sure you use the proper cleaning solution and procedure. You should not wash your cover in a washing machine, with a pressure washer or with any harsh cleaners. Over time it can damage the seams, the water repellency properties of the fabric and the cover itself.
You will find in our Fabrics and colors section, specific maintenance applications per fabric type.  Look for your fabric brand here
MOLD AND MILDEW
Protecting Mother Earth
Regardless of what type of product you use to clean your boat canvas, marine furniture or your boat, it is imperative to conduct your cleaning out of the water.
Cleaners, waxes and polishes can kill fish, birds and other marine life. While there are several environmentally friendly cleaning products on the market most of them are not specially formulated for marine use.
To preserve Mother Earth, it's best to clean your marine canvas or marine vinyl away from large bodies of water.
Battling mold and mildew on your marine canvas.
All marine fabrics and marine vinyls used by ANP are designed to resist mold and mildew.  Unfortunately they cannot withstand the effects of dirt, accumulated sunscreen, residual soap and water.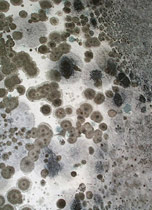 Wherever there is water, there is usually mold as well.  Moisture from the air and sweat from the bodies create an ideal environment for mold and mildew growth, both on marine upholstery and boat covers.
Fortunately, there are a few actions you can take to prevent mold and mildew on your new ANP boat cover or marine furniture.  You will also find tips to mitigate continued growth of mold on an older ANP canvas product.
Waterproofing, Condensation and Seam Leakage
Our camper top enclosures have the finest water repellent treatment possible for each type of fabric. However, no boat top or boat cover can be as waterproof as a house, car or similar solid structure. There are several common and natural causes that can lead to water in your boat.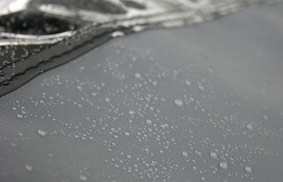 You may have slight leakage through seams and zippers during extended downpours or condensation.
Furthermore, the water resistant coating may wear down after time or due to washing, therefore you may want to spray a water repellent coating onto the boat cover after a few years of use.
Water repellents can be purchased from any outdoors store but is very important to only use products that our recommended by your marine fabric manufacturer.
The technical properties of your fabric can seriously be damaged by non-recommended waterproofing products.
CLEAR VINYL - (Eisenglass)
HANDLE WITH CARE
Handle the clear vinyl carefully. It is soft and very prone to scratching.
Your top, side curtains, aft curtain and camper sets are designed and intended for short-term use only; DO NOT USE FOR STORAGE
Always roll the canvas instead of folding. This is of particular importance on any part with the clear vinyl 'glass'
Maintaining your clear vinyl window set
ANP's boat tops and camper enclosures include clear vinyl window sets so drivers and passengers can see outside the boat and operate safely in bad weather.
We carry 3 types of marine grade clear PVC materials: 20 mil, 30 mil Clear PVC vinyl and 40 mil Pressed Polished vinyl. Each, are UV resistant and cold crack resistant (-15).

As clear marine vinyl ages, it turns a yellowish color and becomes difficult to see through. Small scratches will appear on the windows that mask vision further.
Good practice is to clean and polish the regular clear PVC windows with a clear vinyl cleaner (specifically for marine use) which removes scratches and yellowing for safer windows.
More on clear marine vinyl
STORAGE
Color Transfer
Due to the nature of marine fabrics and vinyls, color can transfer from darker fabric to lighter fabric if two colors are in contact overtime when wet, damp, or exposed to the combination of moisture and high heat.
This does not affect a boat cover or furniture's performance. To prevent and minimize color transfer from occurring, always make sure that your marine fabric components are completely dry.
All materials are prone to mildew if they're not dried thoroughly, which in a short period of time can destroy your equipment.
When packing your boat cover or camper top enclosure, ensure it is totally clean and dry before storing and always store in a cool, dry, and well ventilated location.  Dirt and moisture can allow mildew to grow which can permanently damage your boat cover.
Pay particular attention to seams and binding as these areas take longer to dry.  Symptoms of mildew are a musty smell and black spot stains.  Should mildew occur, address it immediately by airing the cover, and cleaning per care and cleaning recommendations in the fabrics and color section of this website.
More on fabric care and cleaning
Zippers and hardware – Care and cleaning
Each one of our boat tops are manufactured for heavy duty applications, we use the finest marine hardware in the industry.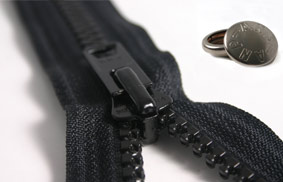 The YKK size #10 Vislon zippers we use on all our boat tops are extremely strong and light weight with a molded zipper tooth. They are also designed to resist damage from UV rays and ideal for marine applications.
Although they are chemical and erosion resistant, dirt from fresh water or salt from salt water splashing over the bow, will cause the zippers and snaps to hang up or corrode.
With a bit of care, though, none of the problems are insurmountable. Give a fresh water rinse from a garden hose to your boat cover's hardware, regularly.
More on zippers and hardware
Boat Top Frame – Care and cleaning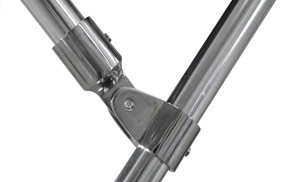 Much damage to boat tops is done during hurried, unskilled setups and maintenance. Make sure you know how to operate your boat top frame mechanism before heading out on the water.
Read carefully the user manual provided with your boat top and put it up a few times to familiarize yourself, with the way it operates.
Double check all the poles and connectors, to make sure the frame is secure to the boat.
You may click here for more information on recommendations to keep your frame looking its best for many years of enjoyment!
More on boat top frames